Adult Emergency Medicine Guide
Procedures
Lumbar Puncture
Cerebral Spinal Fluid Orders
Tubes 1 & 4: Cell Count and Differential
Tube 2: Glucose and Protein
Tube 3: Gram Stain and Culture
Lumbar Puncture Results Interpretation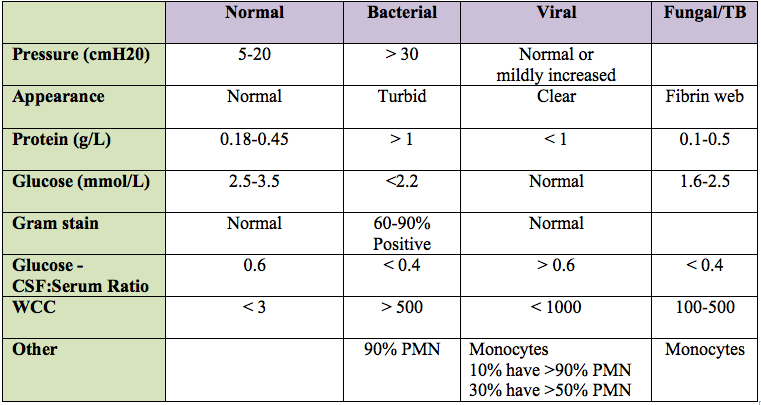 Arthrocentesis
Arthrocentesis Synovial Fluid Orders
Cell Count
Differential
Glucose
Protein
Crystals
Gram Stain
Synovial Fluid Culture
Results Interpretation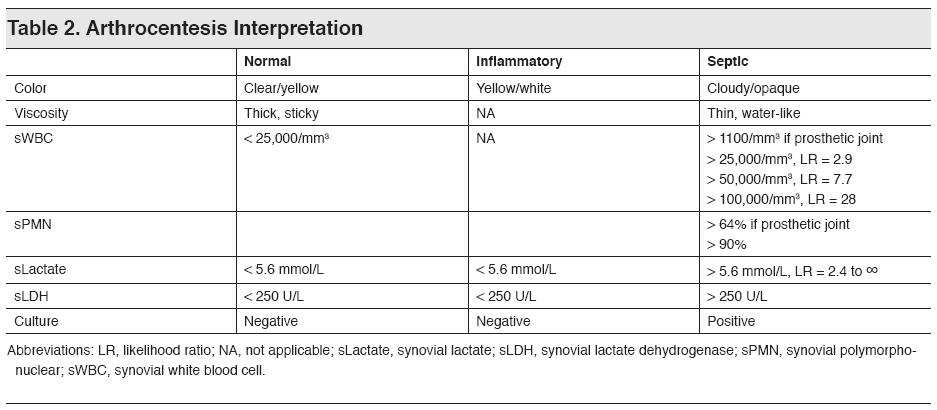 HEENT
Adult Dental Chart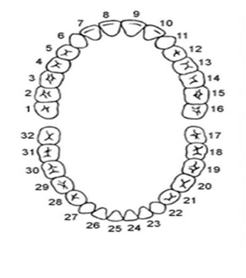 Musculoskeletal
Code Cord Compression
Algorithm for Management of Non-Traumatic Back Pain
Consider these Red Flags for possible cord/cauda equina compression to determine appropriate pathway
History
Epidural abscess: fever, immunocompromised, IVDA, history of bacteremia
Epidural tumer: history of cancer or weight loss
Epidural hematoma: anticoagulation, recent spinal anesthesia
General: new frequent falls or ataxia, greater than 3 weeks of midline pain, nocturnal pain, sphincter incontinence or urinary urgency, bilateral leg symptoms
Physical Exam
Motor: weakness in legs (or arms)
Sensory: sensory level or saddle anesthesia
Reflexes: diminished or abnormal reflexes, including positive (upward) Babinski reflex
Sphincter tone: lax rectal tone (rectal should be performed on intermediate or high risk patients), post-void residual greater than 100mL
Low Risk
No red flags and normal neurologic exam (or isolated single root finding consistent with sciatica)
---
No routine lab testing, imaging, or consults.
Treat symptoms:

Use non-steroidal anti-inflammatory drug; opioids for severe pain.
Consider a muscle relaxant.

Bedrest for 2-3 days for severe pain.
Rapid return to normal activities.
Explain problem and treatment to patient.
Follow-up with PCP.
Provide written instructions about symptoms requiring return visit (including red flags)
Intermediate Risk
Presence of one or more red flags and normal neurologic exam (or isolated single root finding consistent with sciatica)
---
Consider Low Risk or High Risk pathways, if more appropriate for case.
Consider (case-by-case)
Empiric antibiotics
Empiric IV dexamethasone
Consult spine surgery
Options based on clinical judgement:
Further risk stratification: CRP or ESR for possible cancer or spinal abscess.
Consult neurology or spine surgery.
Consider imaging:

Emergent MRI in the ED?
Urgent MRI as outpatient in 48 hours?

Disposition

Discharge with urgent MRI and PCP follow-up?
Admission or observation in hospital?
CAUTION!
Communicate clearly with patient:

About plans, concerns, and need for PCP follow-up.
Symptoms requiring return to the ED.

Coordinate with PCP or admitting provider.
Treat symptoms in analgesics.
High Risk
Any new abnormality on neurologic exam (except for isolated single root finding consistent with sciatica)
---
Consider (case-by-case)
Empiric antibiotics
Empiric IV dexamethasone
Consult spine surgery
Emergency MRI
Initiate rapid imaging of the correct portion of the spine.
Positive MRI
Start ED-based treatments and/or consultations based on the diagnosis.
Consult spine surgeon for definitive care.
Negative or Equivocal MRI
Review MRI with radiologist:

Is the scan truly negative?
Is the scan technically-adequate?
Have the correct levels been imaged?

Repeat the neurologic exam:

Is it truly abnormal?
Has it evolved?

Consider lumbar puncture.
Admit or observe for further evaluation.
FOR HIGH RISK (AND APPROPRIATE INTERMEDIATE-RISK) CASES:
Determine imaging level based on exam findings and possible diagnosis:

If spinal epidural abscess or metastatic cancer is a concern, the entire spine should be imaged because skip areas with abscess or multiple metastasis are common.Discuss case with radiologist, including need for emergent MRI.

Use Primordial Communicator or call x7-7076.
After-hours, call teleradiologist at (877)595-1271.
Order MRI and notify imaging about STAT order at x7-7007.
Ensure pain and anxiety are well controlled, using weight-based analgesic doses.
Consider empiric antibiotics (after cultures) and IV dexamethasone.
Consider notifying neurosurgeon at (410)391-6904.
Cord Compression Imaging Protocol
Severe Sepsis
All three of the following must be met within 6 hours of each other.
Documentation of a suspected source of clinical infection.
Two or more manifestations of systemic infection according to
the SIRS criteria, which are:
Temperature > 38.3 or  < 36.0 C
Heart rate  > 90
WBC > 12K or < 4K or > 10% bands
Respiratory rate> 20
Organ dysfunction, evidenced by any one of the following:
SBP < 90, or MAP < 65, or a SBP decrease of more than 40 pts
Cr > 2.0, or urine output < 0.5 mL/kg/hour for 2 hours
Bilirubin > 2 mg/dL (34.2 mmol/L)
Platelet count < 100,000
INR > 1.5 or a PTT > 60 sec
Lactate > 2 mmol/L (18.0 mg/dL)
Septic Shock
The criteria for Septic Shock are:
Severe Sepsis
AND
Tissue hypoperfusion persists in the hour after
crystalloid fluid  administration, evidenced by either
▪ Continued hypotension

OR

▪ Lactate level is >= 4 mmol/L
0-3 hour bundle
Obtain lactate
Obtain blood cultures before initiation of antibiotics
Broad spectrum antibiotics administered (see bottom of page for suggested antibiotic coverage)
Administer 30ml/kg IVF bolus
3-6 hour bundle
Persistent hypotension or lactate >4, assess volume status and tissue perfusion (see box below for documentation)
Repeat lactate level to be drawn after IVF bolus of 30 ml/kg
Initiate vasopressors to maintain MAP >65 after 30 ml/kg IVF bolus
A focused exam performed by physician/APN/PA including all:
▪ Vital signs review ,
▪ Cardiopulmonary exam,
▪ Capillary refill evaluation,
▪ Peripheral pulse evaluation,
▪ Skin examination
Any two of the following four:
▪ Bedside Cardiovascular Ultrasound (echo, trans-thoracic echo, TTE, TEE, IVC ultrasound, 2D echo, Doppler echo,  Echocardiogram with Doppler, Doppler US of the heart)
▪ Passive Leg Raise Exam by physician/APN/PA or Fluid Challenge given
▪ Central venous pressure measurement (CVP or RAP/right atrial pressure)
▪ Central venous oxygen measurement (SVO2,  ScvO2 or oxygen saturation via central catheter)
Broad Spectrum Antibiotics
[table]
Infection,Primary Therapy, Alternate for Beta-Lactam Allergy
Pneumonia (CAP),Ceftriaxone 1g IV Q24 + Azithromycin 500 IV Q24, Levofloxacin 750 IV Q24
Pneumonia (HCAP), Cefepime 1g IV Q8 + Azithromycin 500 IV Q24+ Vancomycin IVPB** 2nd antibiotic given**, Aztreonam 2g IV Q8+ Levofloxacin 750 IV Q24+ Vancomycin IVPB**2nd antibiotic given**
Urinary,Cefepime 1g IV Q8H, Aztreonam 2g IV Q8
CNS,Ceftriaxone 2g IV Q12+ Vancomycin IV+
Ampicillin 2g IV Q4 (age>50), Meropenem 2g IV Q8+
TMP/SMX 5mg/kg IV Q6+
Vancomycin IVPB **2nd antibiotic given**
Intra-abdominal, Piperacillin/Tazobactam 4.5g IVq8h, Levofloxacin 750mg IV q24 + Metronidazole 500mg IV q8 + (Vancomycin IVPB) **2nd given**
[/table]